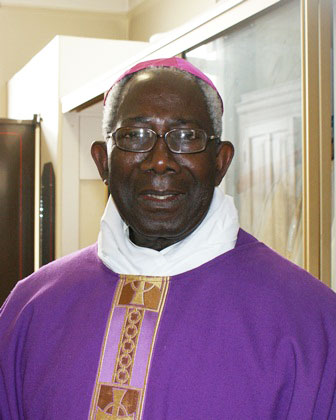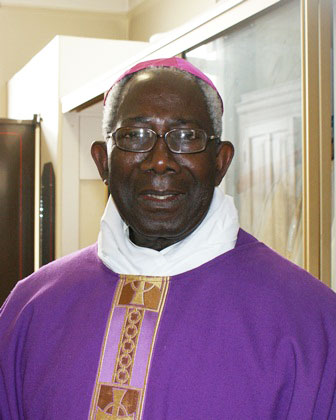 Archbishop Felix Alaba Adeosin Job, Archbishop of Ibadan, made a fleeting visit to the African Missions Headquarters on the Blackrock Road in Cork to confer the Pontifical award, Pro Ecclesia et Pontifice, on two SMA priests who were his co-workers for all of his Episcopal ministry.
In the course of his homily at the Mass he celebrated with the SMA community, Archbishop Job paid warm tributes to the SMA missionaries who had preached the Gospel in that part of the Lord's vineyard. When he was ordained bishop in 1971 (the youngest bishop in the Catholic Church at that time) there were just three diocesan priests – he and two others, one of whom (Monsignor daSilva) has already gone to his eternal reward and Monsignor Felix Adeigbo who is now Rector of the Catholic Institute of West Africa [CIWA]..
There were 46 SMA missionaries, all of them from the Irish Province. Today, 41 years later, there are only two SMA priests in pastoral ministry in Ibadan and, thanks to the efforts of the missionaries, the faithful in Ibadan and the grace of God, 98 diocesan priests.
Monsignor Julius Oni, ordained in 1929, was born in Ibadan but was a priest of the Archdiocese of Lagos. Msgr Oni was one of the first three priests ordained from Oke Are seminary.
The future Archbishop Job is pictured, seated 2nd from right, during the late 1950's when he was a student at Oke-Are Minor seminary. Seated between him and Fr O'Connell is a future Cardinal of the Church: Cardinal Tumi of Cameroon. Standing directly behind Cardinal Tumi is Msgr Chris Bayo. The other three Rev Fathers in the photo are, from left, Donie O'Connor, Paddy Jennings and Tony Jennings.
At the closing ceremony for the Ibadan Archdiocesan Eucharistic Congress, during which three more priests were ordained for Ibadan, the Archbishop conferred the Papal honour – Pro Ecclesia et Pontifice – on a number of his collaborators during his Episcopacy. Sisters from the Medical Missionaries of Mary, Eucharistic Hearts of Jesus, Sisters of Our Lady of Apostles (OLA), St Louis Sisters and Sisters of the Immaculate Heart of Mary were honoured as were three Dominican priests.
Four SMA priests were also conferred with the Papal Medal. Fathers John O'Hea and Fintan Daly were present to receive theirs during the Eucharistic Congress as they are still ministering in Ibadan.
SMA Fathers James O'Hea and Oscar Welsh live in Blackrock Road. The Archbishop announced that he would travel, at a later date, to personally present the medals to Fathers O'Hea and Welsh. It was to fulfil this commitment that the Archbishop made this visit to Cork just days before he celebrates Christmas Midnight Mass for the last time as Archbishop of Ibadan. His Grace informed us that by 24 June next he will have reached the mandatory retirement age of 75 years and he will expect his "dismissal letter" any time from then.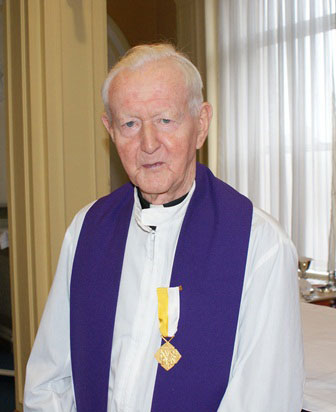 Archbishop Job acknowledged that Fr James O'Hea [left] was his first teacher at the Oke-Are Minor seminary; Fr Oscar Welsh was the one who arranged the details for his Episcopal ordination.
There were many other 'former Ibadan men' gathered for the Mass: Fr Jack Casey (also a Papal Medallist) and Fr Paddy Jennings who also taught the young seminarian. Also in attendance were 30 more priests including Fr James Higgins, a 60 year veteran of mission in Nigeria, who has both a Papal Award and the highest civilian honour that the Nigerian government confers: Order of the Federal Republic of Nigeria (OFN).
Fr. James O'Hea came to Ibadan in 1952 and gave faithful and unbroken service there for 56 years. His first appointment was to St. Theresa's Seminary where he taught for 4 years. Eight of his students were later to become Bishops, among them being H E Cardinal Okogie and Archbishop Job. Fr O'Hea was, for a period, Administrator of St Mary's Cathedral.
He also served in the following Parishes: Holy Cross, Ikire; St. C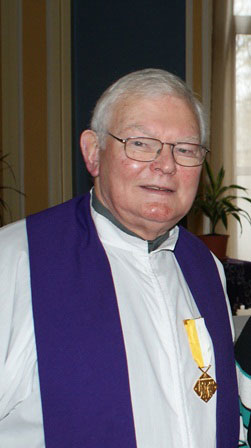 yprian's Oke Offa; St. Joseph's Oke Ado; St. Gabriel's Mokola and St. Patrick's Bashorun.
Despite a serious illness several years ago, Fr James is now living in active retirement at the African Missions, Blackrock Road in Cork where he keeps up to date of all that is happening, both in Ireland and his beloved Nigeria.
Fr. Oscar Welsh came to Ibadan the same time as Fr. John O'Hea. He was first appointed to Holy Cross Parish Ikire. In 1963 because of increased secretarial and administrative work to be done in the Diocese Bishop Richard Finn appointed him as his secretary. His efficiency was greatly appreciated by Bishop Finn and also by Bishop Job who took over from Bishop Finn in 1974. Fr. Welsh continued his efficient work as Secretary until 1980 when he was recalled by his SMA Superiors to be the Provincial Bursar though he continues to be of assistance to Ibadan in various ways.
Archbishop Job has shown his appreciation by seeking a Papal award for a man, who though many years in Ireland, continues to serve the work of mission in Africa. In his homily he reiterated that no matter where an SMA priest might find himself he is always committed to mission. This is the spirit he hopes to instill in his own priests. In recent months Ibadan has seen four more parishes created.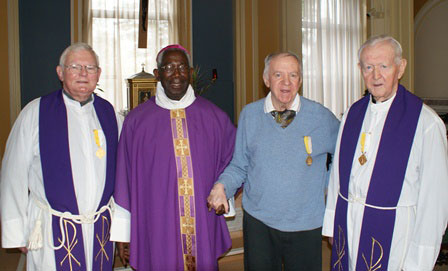 Frs Welsh, Casey and O'Hea are pictured with Archbishop Job after the ceremony
One SMA who worked with the then Fr Job more than forty years ago remarked later that his willingness to go out for several days to outstations and live in the harshest of conditions was something which impressed him.
Father Fintan Daly was appointed to Ibadan after his Ordination in 1964 and is still there, having served in many different roles in the Archdiocese, including Vicar General and Rector of St. Theresa's Minor seminary at Oke-Are. He taught in the Seminary for 24 years, from 1966 -1990, being Rector from 1979 to 1990.
After stepping down as Rector, Fr Fintan moved into full time pastoral work and served in Our Lady of Fatima Parish, Eleta until 2002. He was then elected as Deputy Regional Superior and moved to SMA Regional House in Challenge, Ibadan where he also took charge of St. Leo's Parish which is attached to the SMA house. His three-year term as Deputy Regional Superior ended in 2005 but Fr Daly remains parish priest of St. Leo's, continuing to develop new outstations in the area. Two of them, Good Shepherd and St Anthony's, are now parishes in their own right.
Fr. John O'Hea, brother of Fr James, came to Ibadan in 1961 and his first appointment was to Fatima College, Ikire. He also taught at St. Theresa's Seminary. He then served successively as Parish Priest at St. Anthony's, Iwo, and St. Cyrpian's, Oke Offa. His next appointment was as Cathedral Administrator, after which he moved St. Peter's Apata as Parish Priest.
Convinced that the greatest need in the Archdiocese was the handing on of the faith to children, Fr John has, for more than eleven years, devoted all his energies and talents in training catechists and organising the teaching of religion in parishes and promoting Sunday School for children. To that end he has developed a Catechetics Syllabus for use throughout the Archdiocese and has also written the books for the Catechists and catechumens to use. The cost of these publications he bears himself through family, friends, the SMA and other benefactors.
Fr John also served as Vicar General to Archbishop Job.
The SMA were honoured that the Archbishop should take time out of his schedule to visit Cork to honour two of our brother missionaries. We pray God's continued blessings on him in the years ahead. And as the Provincial Leader, Fr Fachtna O'Driscoll said at the lunch after the ceremony, the Archbishop "will always be welcome in Blackrock Road after he has retired". We hope he will accept this invitation. E ku se Oluwa!