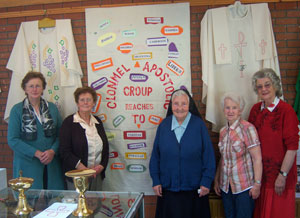 Killaloe and Clonmel Apostolic Workers celebrate
The Apostolic Work Society gathers together committed lay people and religious to pray and support the work of Irish missionaries (and others) wherever they serve. Founded in 1923, in the diocese of Down & Connor, its aim was to assist the missionaries who had started to travel abroad at the beginning of the century. Read a brief history of Apostolic Work here.
On Monday, 6 September, the Diocese of Killaloe celebrated its 55th Anniversary with a Jubilee Mass in the Ss Peter & Paul Cathedral, Ennis. The principal celebrant, Fr Donall O'Catháin SMA, thanked the large congregation of Apostolic Workers for their commitment to evangelization and in particular for their support for the building of churches in his mission in Nigeria. "You can get money for education and for health purposes but it is very difficult to get agencies to fund churches", Fr Donall told the congregation. And he encouraged them to make known their important work and invite others to join with them in it. At the end of the Mass, the recently-ordained Bishop of Killaloe, Bishop Kieran O'Reilly SMA, thanked the Apostolic Work for their faithful co-operation in the work of missionaries throughout the world.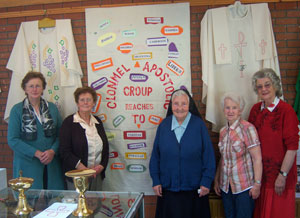 In preparation for their Golden Jubilee celebration the Clonmel Apostolic Work Society (Diocese of Waterford & Lismore) are holding a weeklong Exhibtion in the Public Library in Clonmel from 6 – 10 September. All are welcome. Pictured here are some of the Apostolic members with Sister Margaret, Presentation Sisters.
Apostolic groups througthout the country meet regularly to pray for missionaries, to sew vestments, albs, altar linens… They also fundraise to buy chalices, ciboria, Monstrances for Benediction, Tabernacles. In more recent years many missionaries turn to the Apostolic Workers for funds to build churches and clinics, computers, audio-visual equipment. The list is endless … and the generosity of our Irish Apostolic Workers knows no bounds.
May the Lord bless each and every one of them and their supporters