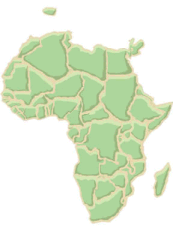 Africa Day 2010 – SMA invite reflection and prayer on behalf of and with Africa
Africa Day, which falls on 25 May annually, is the official day of the African Union and marks African unity. When Africa grabs the attention of the world's media, it is often for the most negative of reasons; the problems of HIV/AIDS, civil wars and violence, negative ethnicity, genocide, refugees, poverty and corruption all across the continent are but a few examples.
Fr. Paul Saa-Dade Ennin, a member of the SMA General Council, says that "like every other continent, Africa has its contradictions of the good, the bad and the ugly. We have heard enough of the bad and the ugly. It is time to proclaim the good". We, in the SMA, who know the good and the beauty of Africa say AMEN to that!
Africa Day affords us with an opportunity to raise awareness of the challenges faced by much of the continent while at the same time
celebrating African diversity and success, and join Africans around the world in highlighting the religious, cultural and social energy of the continent.
How easy we forget that Africa is a vast continent, many times the size of Europe. Yet in Ireland we often speak as if Africa is one homogenous group of people. Not so! There are more than 1,000 different languages in Africa. Nigeria is thirteen times the size of Ireland. How often we hear people speak of an 'African' and not a Nigerian or a Kenyan or a Liberian. Would you be happy ot be classed simply as a 'European' and your particular nationality ignored? If there are Africans in your area why not find out their particular nationality and refer to them in future with their nationality and not the catchall phrase 'African'?
To mark Africa Day 2010 the Society of African Missions (SMA) invite people at all levels to promote reflection and prayer on behalf of and with Africa while celebrating everything that is positive about Africa .