Fr. Piotin will… be remembered for producing the first Etsako catechism which is still in use today.
The 'good white man' was the nickname the local people gave him'.
Ninety-four years after his death devotion to Our Lady continues to resonate throughout Auchi Diocese and particularly in the hearts and minds of the people of Agenbode where his name is gradually being immortalised.
Compiled by Fr. Peter McCawille, SMA from material made available by Fr. Silas Bobokhai and Sr. Julie Ambrose, SND.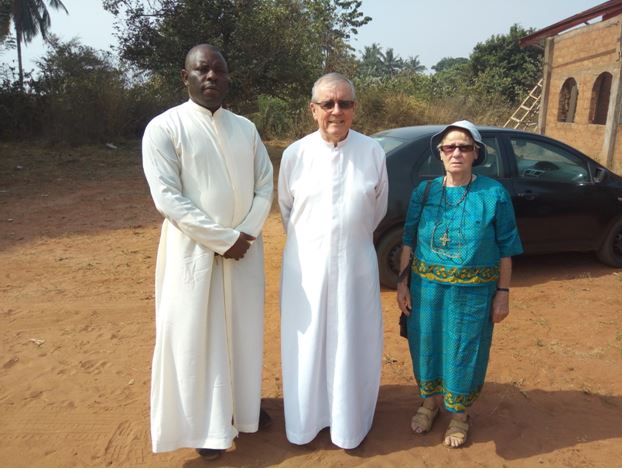 The name Pierre Piotin first came to my notice about fifteen years ago when I was editing Jimmy Higgins' first book titled, 'Kindling the Fire', published in 2003. The book paid tribute in short profiles to all SMAs who had worked in what used to be referred to as the 'Mid-West' region of Nigeria.
Chapter One began with the '1884-1917 Era' when Frs. Jules Poirier and Carlo Zappa were at the helm in Lokoja and Asaba. Chapter Seven detailed the 'Modern Era' when Fr. Fabian Hevi from Ghana, and Fr. Donatien Djohossou from Bénin, were appointed to St. Patrick's SMA parish, Cable Point, Asaba.
The profile of Pierre Piotin caught my eye. Fr. Higgins described him in the following words:
'Pierre Piotin can never be forgotten in the Agenebode and Etsako (Afenmai) areas. His simple grave beside the present Catholic maternity hospital, formerly the old mission bungalow, bears eloquent testimony to his lifelong service to his beloved people. He lived in that area from 1895 until his death in 1924, his recently-arrived curate Jerry Sheehan being at hand to give him the last rites when he died on 22 March, 1924. Fr. Piotin will also be remembered for producing the first Etsako catechism which is still in use today. The 'good white man' was the nickname the local people gave him'.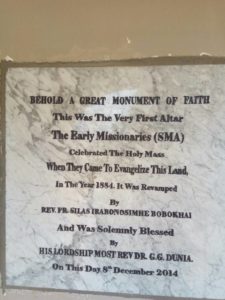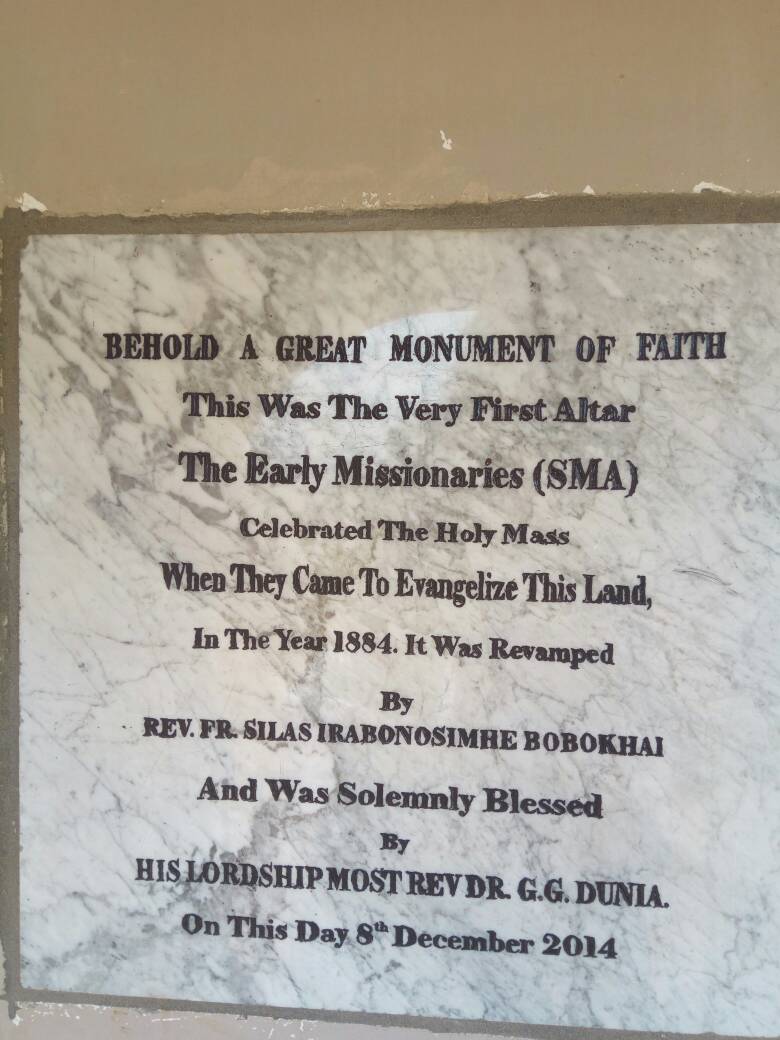 The reference to Fr. Jerry Sheehan brought me back to my early SMA days in Cloughballymore ('Clough') in 1967 / 68 where he was a respected member of staff even though we didn't have much direct contact with him. We didn't realise at the time that he was already a 73-years old veteran missionary, living in retirement! Like Pierre Piotin, Jerry Sheehan, Berengario Cermenati (one of the most renowned missionaries in those early days, serving in Agenebode, Asaba and Lokoja areas) and the equally revered Thomas (Père) Greene (who died on 28 February, 1986) all worked in Agenebode, one of the earliest stations after seeds had been sown in Asaba in 1888. Close to Agenebode is Ivianokpodi, the site of the first seminary in West Africa, which was opened in 1912 by Fr. Carlo Zappa, SMA and later transferred to Asaba.
Pierre Piotin was born at Oyeu in the Diocese of Grenoble on 20 September, 1867. He began his studies for the priesthood with La Salette Fathers founded in 1852 by Philibert de Bruillard (1765-1860), the Bishop of Grenoble and had already received tonsure and minor orders in preparation for ordination when sickness forced him to interrupt his studies for three years.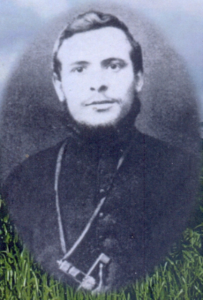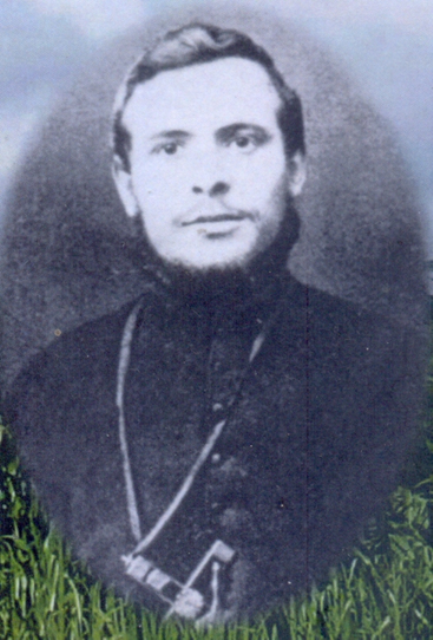 On recovering his health he joined the Society of African Missions (SMA) in 1893 and he was ordained, at the age of 27, on 22 December, 1894. After ordination he left for Nigeria where he teamed up with the renowned Fr. Carlo Zappa, SMA who had moved from Lokoja, where he had encountered some hostility, to Asaba in 1888.
Initially, Fr. Piotin found the climate difficult and he was frequently felled by malaria fever. However, his health improved greatly after Fr. Zappa reassigned him in 1896 to Agenebode to work among the Kukurus. Providentially, the climate there proved less intimidating. In fact, his health improved to such an extent that he propelled himself into his work with gusto, often enduring long 14-hour treks visiting surrounding villages, the while stubbornly insisting that such marathon journeys were quite normal!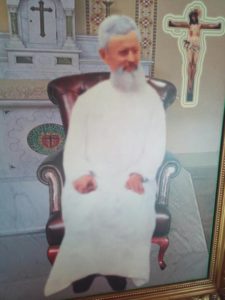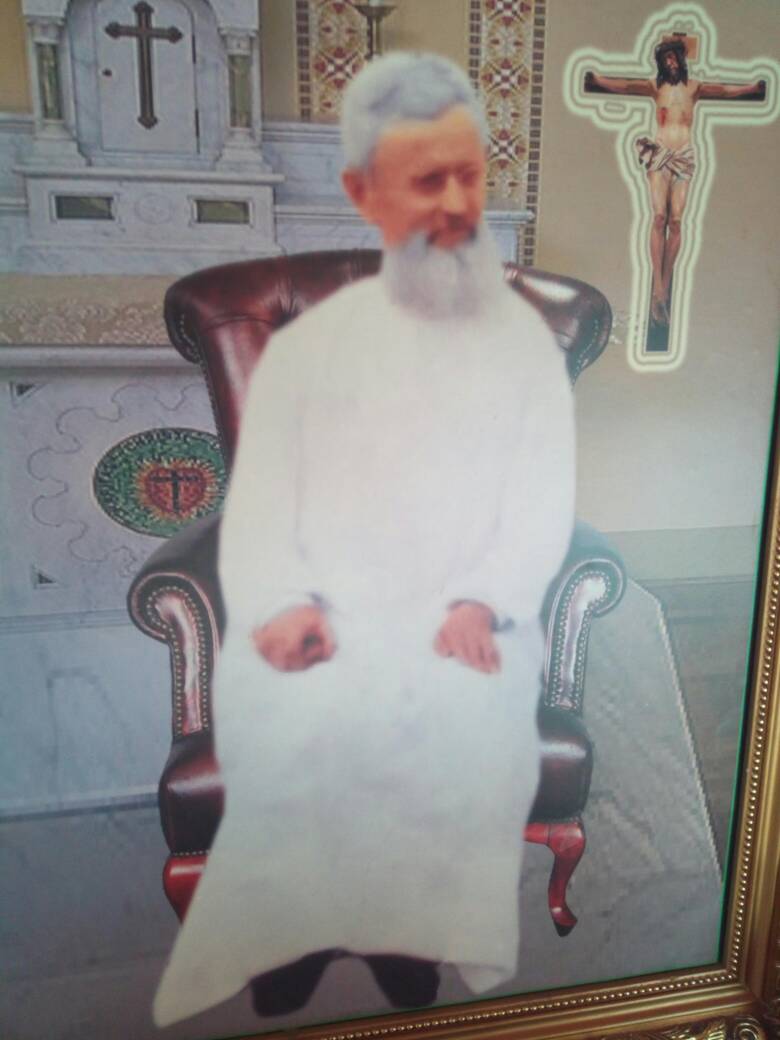 Prior to his arrival in Agenebode attempts at establishing a mission there were marginally successful, due mainly to intense opposition from some local traditionalists. However, Fr. Piotin gradually won over the people's allegiance. They admired him greatly, especially his caring and generous nature. When some suggested the people were exploiting his generous nature he replied, "Too bad if they are fooling me, provided that they convert". However, behind his benign and apparently fragile exterior there lay an astute and robust character which the people instinctively appreciated. Through his kindness and charity he succeeded in establishing a significant pastoral presence among the hitherto resistant Kukurus.
Early on in his ministry he realised the importance of learning the language (as did Fr. Zappa in Asaba) as an indispensable tool for evangelisation. He insisted on learning the Etsako language and even produced the first Etsako catechism. Simultaneously, he encouraged devotion to Our Lady by introducing what is known today as the 'Ora pro nobis' prayer, the litany of the Blessed Virgin Mary.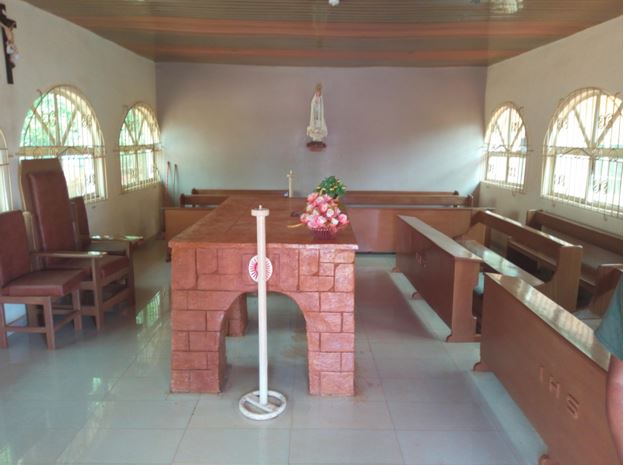 It is interesting to note that Fr. Higgins made a significant reference to the 'Ora' in the following words – "I often quote an experience I had when I was in Uzairue in the late 50s. I had occasion to give out the Rosary and Litany during the month of October. At first I was surprised to observe that the Litany of the Blessed Virgin was chanted in Latin. The catechist, Michael Ozekhome, chanted 'Sancta Maria, Sancta Dei Genetrix', and so on, while the congregation in reply chanted, 'Ora pro nobis'. There were pleasant variations too – after three or four invocations it would go, 'Ora, ora, pro nobis'. The people were obviously enjoying it and large numbers turned up every evening. However, in my desire to speed things up, I took over and just recited it. After a few evenings, I observed a considerable falling off in the numbers attending. I realised my mistake and permitted the catechist to resume his chanting; soon all were back and happy again. I even recall that sometimes children would confess, 'I missed the 'Ora' two times!" That 'Ora' had an extraordinary appeal for the Etsako people. I haven't heard it elsewhere, but Fr. Piotin or his successors in Agenebode were inspired when they introduced it". (KTF, page 101).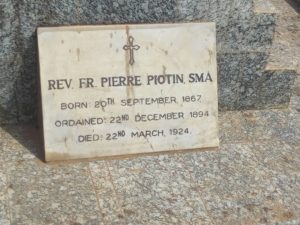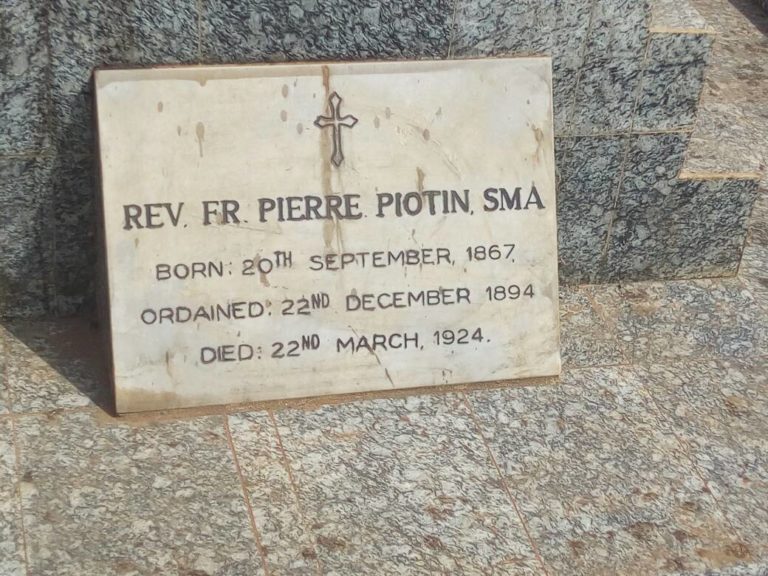 Fr. Piotin's devotion to Our Lady was the mainstay of his pastoral and spiritual life. Ninety-four years after his death devotion to Our Lady continues to resonate throughout Auchi Diocese and particularly in the hearts and minds of the people of Agenbode where his name is gradually being immortalised. In the 1990s at a time when there were still elderly people who remembered Fr. Piotin the Sisters of Notre Dame de Namur (SND) collaborated with the Catholic Women's Organisation (C.W.O.) in Sacred Heart parish, Agenebode in opening a Fr. Piotin Nursery Primary school. The Headmistress at that time was Sr. Fidelia Chukwu, SND who recently recalled a Foundation Day celebration in the 1990s which was attended by parents, their children and many parishioners. Somewhat significantly, just as the function was coming to an end the people were dancing and singing a song about Fr. Piotin which had been written by Sr. Fidelia. All of a sudden the sky changed colour and there was a very strong gust of wind which blew the tops off the canopies. This was followed by a light shower of rain which the people instantly interpreted as a sign of God's blessing.
In 2004 the then parish priest of Sacred Heart parish, Agenebode, Fr. Silas Bobokhai tapped into the enthusiasm of the people by deciding to invite parishioners from all the outstations to join in a day's devotion near the grave of Fr. Piotin. The day began with Mass at 6am, continued with adoration of the Blessed Sacrament and concluded with Mass at 6pm. The event was well attended and encouraged Fr. Silas to build on that initial positive response to his initiative. That early enthusiasm has not abated and today on the last Thursday of each month more than 1,000 people attend a programme of prayer and devotion which begins with the Divine Mercy prayer at 3pm, followed by Mass, many testimonies from people who attest to favours granted through the intercession of Fr. Piotin. The programme concludes with exposition of the Blessed Sacrament.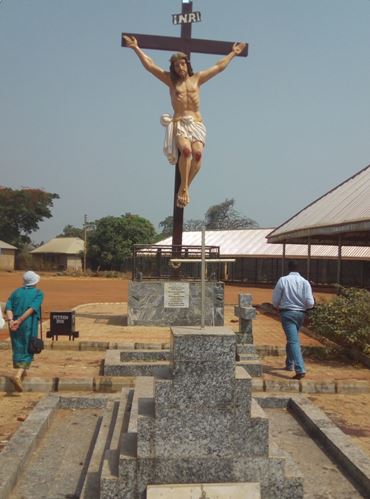 The present Sacred Heart church replaced the first church in the diocese which is next to the Medical Centre built on the site of the original house where SMA Fathers Piotin, Cermenati and Greene lived. Close to the church Fr. Silas has built a chapel around what remains of Fr. Piotin's original altar. Fr. Piotin's resting place is highlighted by a beautiful headstone. Towering over Fr. Piotin's grave is a huge crucifix which can be clearly seen by anyone entering or leaving the town of Agenebode. The crucifix is dedicated to the good works of Fr. Piotin and was blessed on 8 June, 2017 by Bishop Gabriel G. Dunia, the Bishop of Auchi diocese.
With a view to disseminating more widely the message of Fr. Piotin's influence Fr. Silas is gathering video evidence of the enormous interest and enthusiasm that the memory of Fr. Piotin has evoked over the ninety-four years that have passed since he died.
Clearly Fr. Piotin was a very pious, conscientious and reflective missionary and it was no surprise that he also became a valued adviser to the then Prefect Apostolic, the equally renowned Fr. Carlo Zappa. When Fr. Zappa died in 1917 Fr. Piotin administered the Prefecture until the arrival of Bishop Thomas Broderick, SMA. Not surprisingly, Fr. Piotin was then more than happy to return to his beloved Agenebode to resume the role of simple pastor.
Towards the end of his life he was so consumed by the increasing demands of his pastoral ministry that he scarcely noticed his health was rapidly deteriorating. He died at his post on 22 March, 1924, at the age of 57. Devotion to him in Agenebode has been gaining momentum as the Centenary of his death approaches. May he rest contentedly in the bosom of Abraham. Amen.
Fr Peter McCawille SMA, 13 February, 2018