"Back home in Ireland I pray daily that our church continue to be blessed with priests of the welcome, prayerful disposition and missionary zeal of Fr Gilbert Bonouvrié, SMA." 
– Alan Whelan
Editor's Note: This is an uplifting article written by Alan Whelan after he and his wife visited the parish of St. Anne in Agadir, Morocco, where SMA missionary,
Père Gilbert Bonouvrié, SMA, is Parish Priest. Fr. Gilbert, a Dutch SMA, first worked in Ghana and has been in Morocco for more than 25 years. His principal ministry is caring for Africans from south of the Sahara Desert, many from the Sahel region where the Great Green Wall will pass through, and who come seeking opportunities to study or work in Morocco, or are determined to make the perilous journey across the Mediterranean to Europe.
————————————————————————–
A Most Welcome Parish
by Alan Whelan
Many years ago I wrote a short article on the Signs associated with a Welcoming Parish. Since then I often compare current experiences with what I described as best practice in that piece.
A recent holiday experience in North Africa fulfilled all my aspirations.
St Anne's Church in Agadir, Morocco, with its eighty year old Dutch Society of African Missions [SMA] priest, was a shining example for me of all that is best in Christian welcome.
As we entered the gates to the church grounds for the first time we couldn't miss the large circular multilingual leaflet display carousel where on prominent display were twelve or more sets of the previous Sunday's Mass leaflets in a range of languages each denoted by an appropriate national flag.
As we sat in our seats awaiting a weekday Mass we were approached by a smiling grey-haired bearded gentleman, who turned out to be the parish priest. He asked us about ourselves: about our family, where we were from and where we were staying in Agadir.
When Mass started we were introduced in English and French by name to the dozen or so other mass goers. Mass was celebrated using several languages and likewise the frequent interspersed singing of parts of the Mass.
After Mass we stayed on in the church to pray our personal Thanksgiving Prayers. When we exited the front door of the church we saw the priest sitting and chatting with a diverse group of parishioners. He introduced us to some of the French speaking African students and got them to practice their English on us.
As the week went by we were daily greeted by a warm embrace and asked to do some of the readings and again, following the pattern of day one, we were introduced to more student parishioners and to more visiting fellow tourists.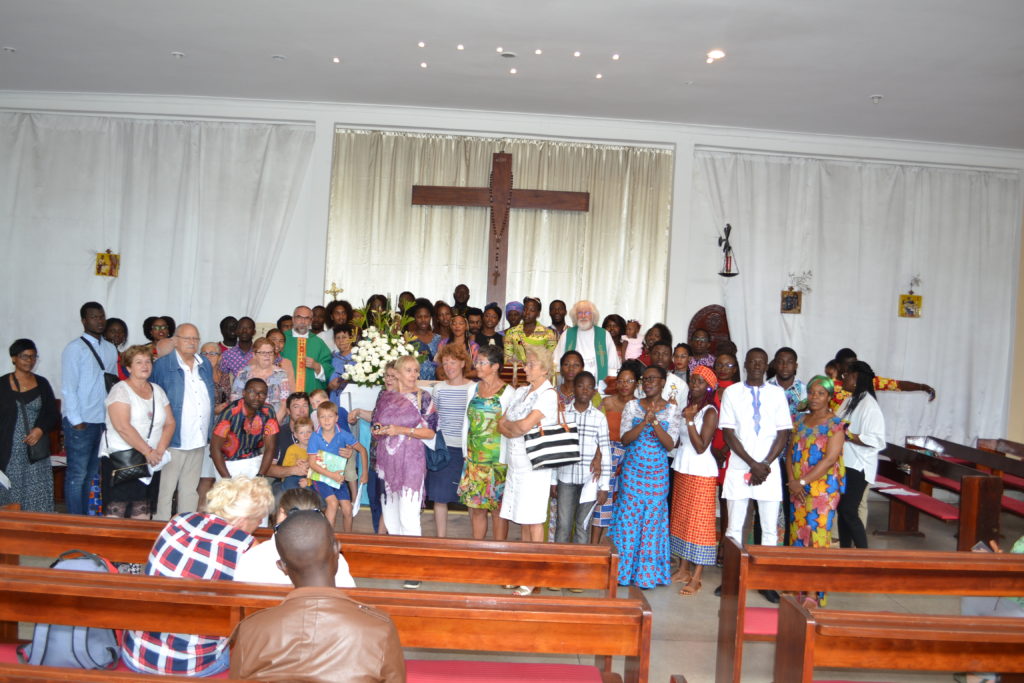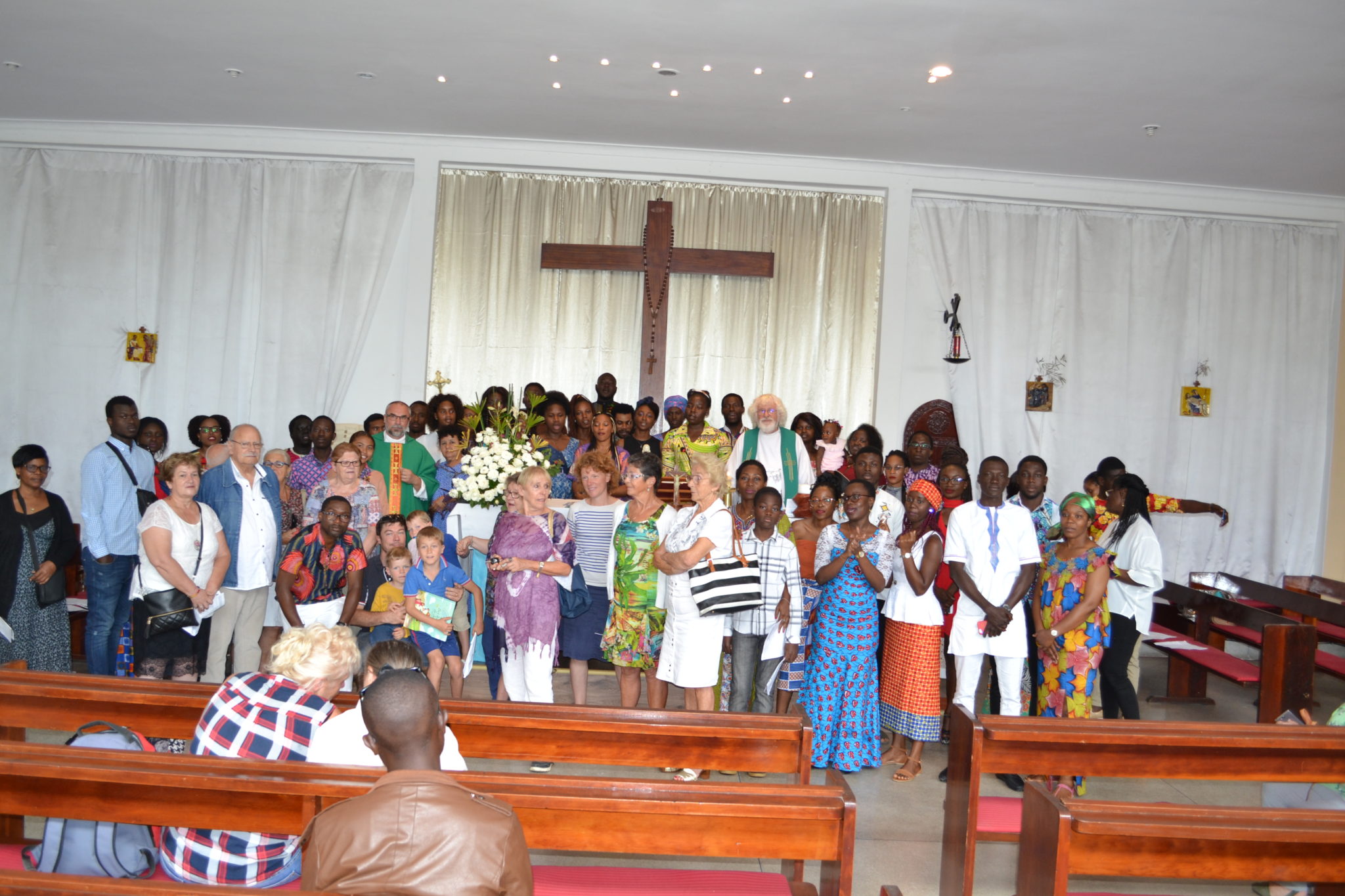 Saturday evening Mass was a wonderful liturgical experience. Sitting to the left of the altar on clearly designated pews, the choir, comprising thirty or so young West Africans, really inspired and led the lively and fulsome congregational singing.
My wife was celebrating a special birthday that day and unknown to both of us the priest had organised the choir to sing an impromptu "Happy Birthday to You" as part of their end of Mass singing.
Sunday morning Mass, on Mission Sunday, was an even more vibrant worship experience. As each parishioner and visitor entered the church they took two leaflets from the carousel: one with the Mass readings in their preferred language and the other with an essential multilingual Mass programme. The priest was very busy greeting choir members, regular parishioners and looking out and welcoming visiting tourists. This time the choir had swelled to over forty, mostly females in their twenties from Niger and Burkina Faso. They were led very effectively by a slightly older Egyptian man.
The multilingual leaflets were used to maximum effect when for example in successive sections of The Creed the turn came for different linguistic groups to contribute in their familiar home language. This happened again in the Prayers of the Faithful. Most of the intentions prayed for were displayed on an A3 printed sheet pinned to the altar frontal. These consisted in the main of congregational prayer requests and stayed in place at Masses for the full week.
The A4 double-sided common sheet with "Programme de Chants" gave the Order of Service with the opening hymn in French, Polish, German, English, Italian and Spanish. The Gloria and Creed were sung in much the same linguistic order.
For the exquisitely sung Responsorial Psalm and for some of the other inputs very talented individual members of the youthful choir made first class contributions.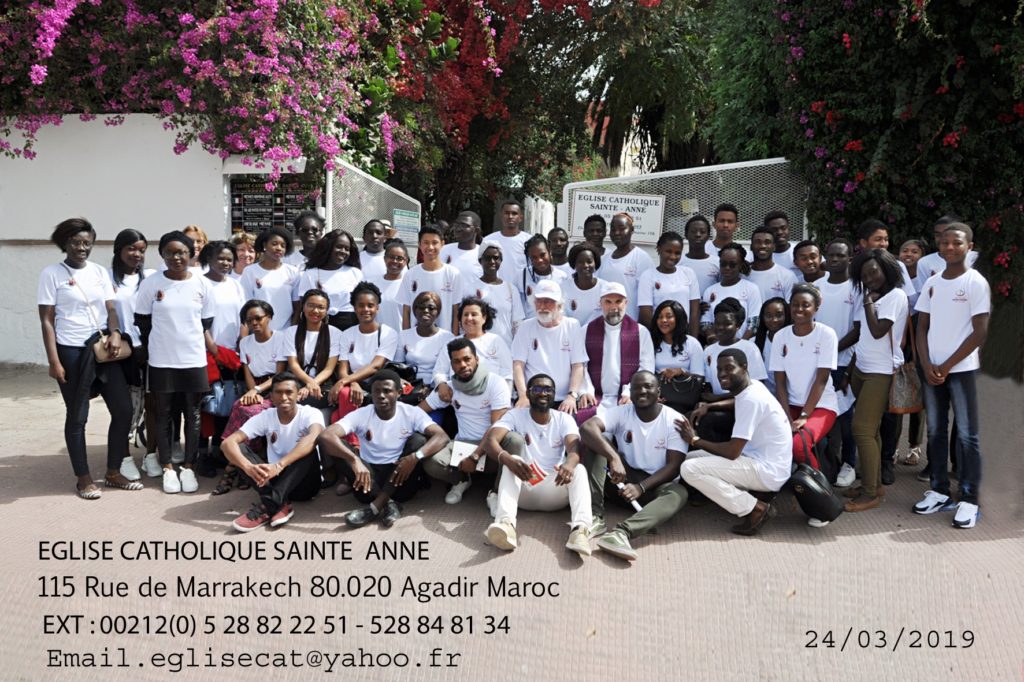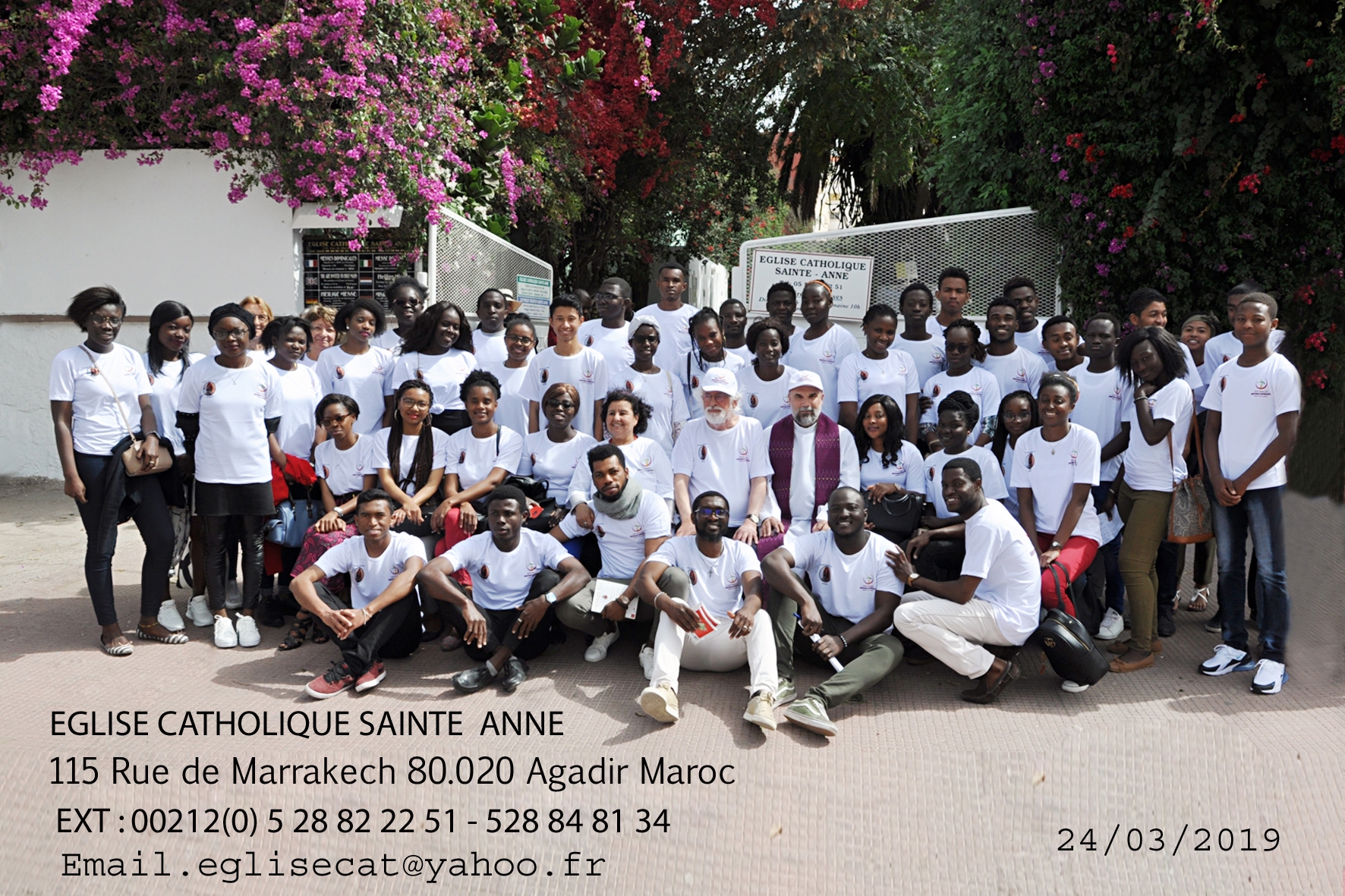 Mass readings were in each case read first in French and otherwise there was parity of esteem between languages used. Latin was used in several of the more common prayerful response exchanges. The Bidding Prayers concluded with recitation of A Prayer to St Charles de Foucauld.
At the Offertory four African women, each in very colourful dress, to the beat of the singing, slowly and solemnly brought the gifts to the celebrant at the altar.
The Our Father was spoken in French and Arabic. The Sign of Peace was exchanged throughout the congregation with a minimum of fuss. At the Sign of Peace there was obvious rapport between African choir members and older established French families with a good smattering of grandchildren.
There was a second collection for Mission Sunday. The priest explained that the diocesan collection was small when compared with what Rome sends back to the Rabat Archdiocese for its day to day missionary activity.
The Final hymn was again sung verse by verse in a different language. After Mass most of the congregation remained on for twenty or thirty minutes as the choir went into an even higher gear with fantastic singing, chanting and dancing. Members of the congregation, young and old, joined in the celebratory mood within which one could feel the joy of real Christian community.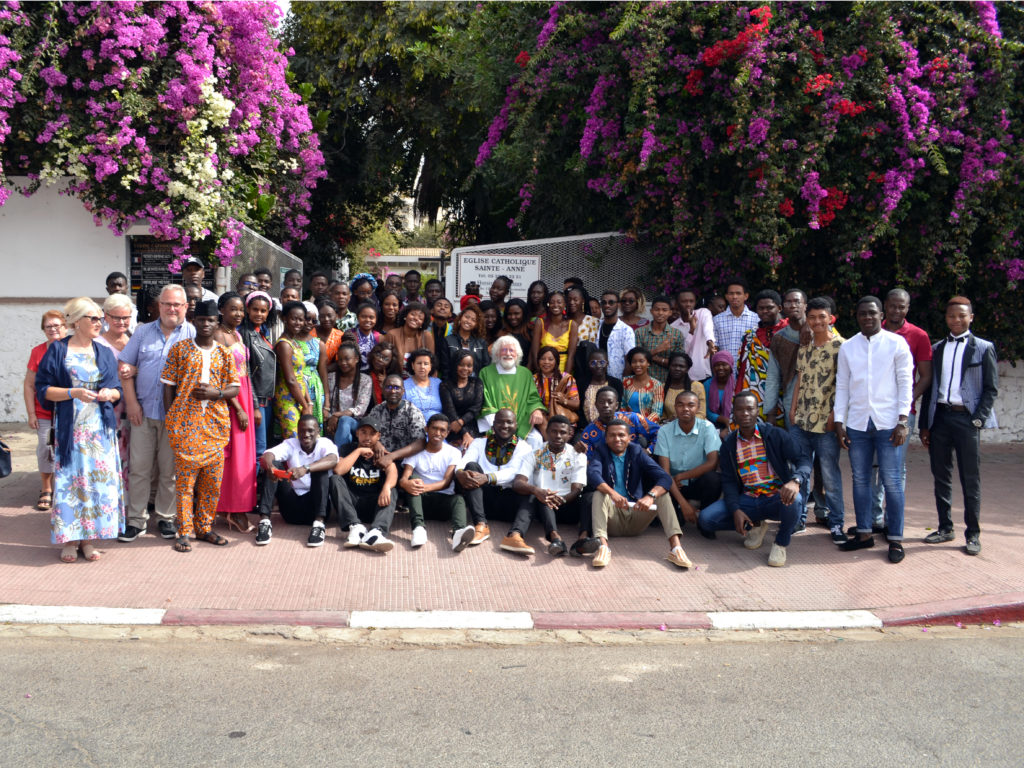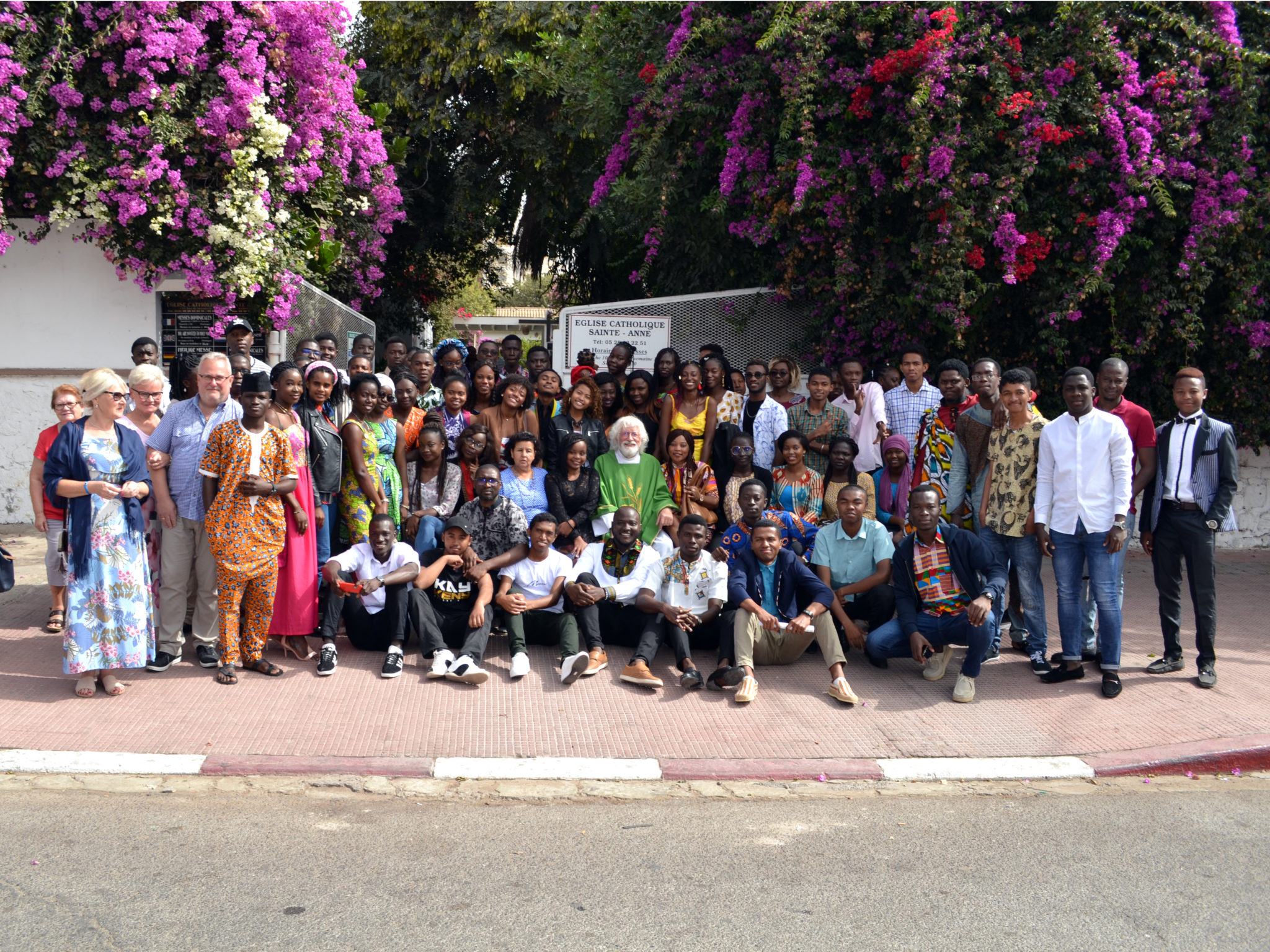 Agadir is in the Archdiocese of Rabat under the leadership a Spanish Salesian missionary appointed bishop in 2018 and created Cardinal in 2019 as part of Pope Francis reaching out to and supporting the emerging churches including those in predominantly Muslim nations. This clearly was a missionary church.
Back home in Ireland I pray daily that our church continue to be blessed with priests of the welcome, prayerful disposition and missionary zeal of Fr Gilbert Bonouvrié, SMA.
Alan Whelan