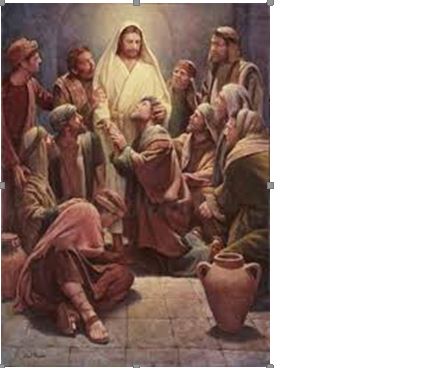 "I will not leave you orphans; I will come back to you" (Jn 14:18)
Perhaps some of you may remember Hank Snow's hit song of 50 + years back, "Nobody's Child"?
The refrain went like this:
I'm nobody's child, I'm nobody's child
Just like a flower I'm growing wild
No mommy's kisses and no daddy's smile
Nobody wants me, I'm nobody's child.
Though a bit mawkish, these words capture the feelings of loneliness and abandonment that all of us have experienced at some time or other in our lives. And, no doubt, many are feeling a bit like orphans during these 'lockdown' days. These were also the feelings of the disciples when Jesus told them that the time had come for him to return to his Father.  In today's Gospel we see that Jesus, far from ignoring or make light of such feelings, responds to them with words that warm their hearts and uplift their spirits: 'I will not leave you orphans; I will come back to you' and 'you will see me, because I live and you will live' (Jn 14:19 ). The face of God we see in Jesus is the face of One who wants to be with his people always and who will never desert them.
The God we believe in is not a remote celestial Super Being who keeps his distance from us, but a God who comes close to us, a God who wants to be with us. Already, in the Old Testament, we see that God not only spoke to his people through Moses and the Prophets but was present with them in the events of their history. He accompanied them in their journey from slavery in Egypt to freedom in the Promised Land. When Moses and the prophets were called and sent to bring God's message of hope to the people of Israel, they always asked for some sign that would help them to carry out the task they were given. And the sign they received was the assurance that God (Yahweh) would be with them to enable them to carry out the mission entrusted to them.
This presence of God with his people reached its climax in Christ. He was, and is, Emmanuel (God-with-us). In his physical presence God took visible form. He was God enfleshed. When he spoke, it was God who was speaking. When he touched and healed people, it was God who was touching and healing them. When he walked the dusty roads of Palestine, it was God who was walking among people. When he cried over Jerusalem, it was God who was crying. Invariably the disciples failed to see this.  In last Sunday's Gospel we saw Philip asking Jesus to show them the Father. And Jesus' response was: 'Have I been with you all this time, Philip, and you still do not know me? To have seen me is to have seen the Father' (Jn 14:19).
In today's Gospel, while Jesus speaks of his return to his Father, he also promises to be with his disciples in a new way, through the Spirit (the Advocate) who will teach and empower them. When the Spirit comes, they will understand both his relationship with the father – that he is in the Father and the Father is in him- and his new and more intimate relationship with them: 'On that day you will understand the I am in my Father and you in me and I in you' (Jn 14: 20).
An essential element of the Good News, then, is Christ's enduring presence to us. He does not leave us orphans.  Yes, he has returned to the Father, but only in order to be with us in an even more profound way through his Spirit. Indeed, it is only because he is with us in this new way that we are able to be his witnesses to the ends of the earth.  Without him we are nothing. With him at work in us, we become his instruments in the transformation of our world into 'a new earth and a new heaven' (Rev 21:1) where all people will feel at home and orphans will be no more.
Michael McCabe SMA, May 2020