2018 theme: Workers on the Move: the Quest for Social Justice
Editor's Note: Sheila Curran RSM, Justice Coordinator, AMRI-Association of Leaders of Missionaries and Religious of Ireland, has produced the following reflection to mark the 2018 World Day of Social Justice. As well as insightful statistics concerning the experience of migrant workers in Ireland (not something we – a nation with a great Diaspora of colonial and economic refugees and migrants – can be proud of), Sheila has also sourced additional documentation to deepen our understanding of the plights of millions today throughout the world.
This special day is also an opportunity to remember those who have championed the cause of workers rights, informed and motivated by Catholic Social Justice teachings. We remember especially Cesar Chavez, co-founder of the United Farm Workers of America, who fought for the rights of farm laborers in California and Mexico. Chavez's commitment was inspired by St. Francis of Assisi and Gandhi.   
Essential to the attainment of national goals is the moral imperative of ensuring social justice and respect for human dignity. The great biblical tradition enjoins on all peoples the duty to hear the voice of the poor. It bids us to break the bonds of injustice and oppression which give rise to glaring, and indeed, scandalous social inequalities. Reforming the social structures which perpetuate poverty and the exclusion of the poor first requires a conversion of mind and heart.
– Pope Francis
———————————————————
According to the UN social justice is an underlying principle for peaceful and prosperous coexistence within and among nations. We uphold the principles of social justice when we promote gender equality or the rights of indigenous peoples and migrants. We advance social justice when we remove barriers that people face because of gender, age, race, ethnicity, religion, culture or disability.
For the United Nations, the pursuit of social justice for all is at the core of our global mission to promote development and human dignity. The adoption by the International Labour Organization of the Declaration on Social Justice for a Fair Globalization is just one recent example of the UN system's commitment to social justice. The Declaration focuses on guaranteeing fair outcomes for all through employment, social protection, social dialogue, and fundamental principles and rights at work
Workers on the Move: the Quest for Social Justice (UN)
Most migration today is linked directly or indirectly to the search for decent work opportunities. Even if employment is not the primary driver, it usually features in the migration process at some point.
There are an estimated 258 million international migrants. The ILO estimates that there are roughly 150 million migrant workers.
Among migrant workers, 56 percent are men and 44 percent are women.
Migrant workers account for 4.4 percent of all workers and have higher labour force participation rates than non-migrants globally (73 percent and 64 percent respectively).
Migrant Workers in Ireland
Migrant Rights Centre Ireland: All Work and Low Pay: The Experience of Migrants Working in Ireland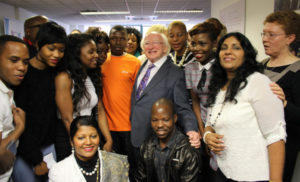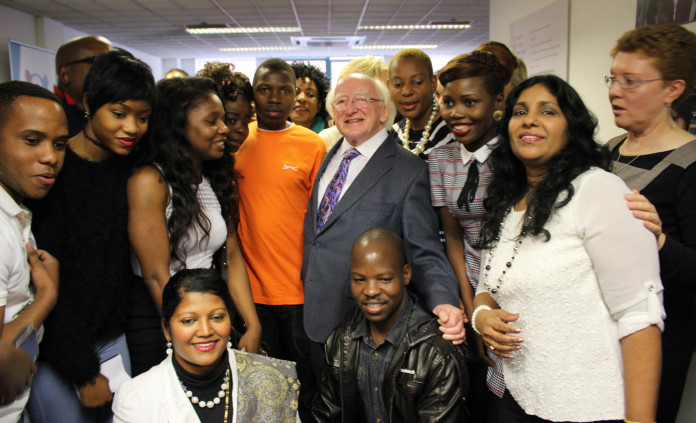 New research conducted with migrants working in low-paid sectors in Ireland by MRCI has revealed that exploitation, lack of progression and discrimination are rife. Migrants working in the restaurant sector, security, home care and domestic work were surveyed and highlighted precarious working conditions, widespread breaches of employment law and chronic underpayment. Key survey findings:
44% received less than €8.65 per hour
48% are living on less than €300 per week
61% are required to work extra hours without pay
45% had no contract
26% do not receive payslips
82% did not receive a salary increase in the last year
82% were not compensated for working on Sundays
The survey findings were reinforced by focus group discussions and an analysis of ten years of data from the MRCI Ireland's case files. To download the report click here.
Refugees and the right to work in Ireland
AMRI advocates for access to the labour market for asylum seekers in Ireland. Since the 9th February 2018, asylum seekers have a limited right to seek and enter employment. The Supreme Court has declared Ireland's ban on employment to be unconstitutional.
From 9th February 2018, asylum seekers are now permitted to apply for an employment permit as part of the interim measures introduced by Government, while it is opting-in to the EU (recast) Reception Conditions Directive.
The employment permit process is very restrictive and requires people to have secured employment in restricted sectors with a salary of a minimum of €30,000 per year.
The Government has indicated that it will introduce less restrictive measures when opting-in to the Directive later this year. We have no information as yet on what these less restrictive measures will be.
The Information Booklet is available for download here.
Other Resources
NASC in Cork have drafted a leaflet and an eligibility checklist to help people determine what they can apply for. You can access the leaflet here:
and the checklist here.
What you could do?
Write to your local TD in support of migrant workers or lobby for less restrictive measures for refugees to the employment market. Migrants and refugees wish to contribute to making Ireland a more just and humane society.
World Day of Social Justice
The Resolution adopted by the United Nations General Assembly on 26 November 2007 declaring 20 February 2018: World Day of Social Justice may be accessed by clicking here.