Fr Malachy Flanagan, SMA Vice Provincial Leader, presided at the 39th SMA / OLA Pilgrimage to Our Lady's Shrine at Knock, Co Mayo on Saturday, 25 May. More than 40 other SMA priests concelebrated the Mass, including Fathers Ignatius Malwa SMA (from Zambia) who is the FVC Director for Munster and Fr Alphonse Sekongo SMA (from Ivory Coast) who is Assistant priest at St Joseph's SMA parish, Blackrock Road, Cork.
This year the SMA celebrates the 60th anniversary of the SMA Family Vocations Community [FVC] and it was fitting that the homily was preached by Fr Eamonn Finnegan SMA, who has, at different times, served as the FVC Director in Dublin, Dromantine and Claregalway. He is presently the Leader of the SMA community in Claregalway, Co Galway.
The following is an edited version of his homily:
The Readings for the Mass were taken from Zephaniah 3:14-18, Romans 12:9-16 and Luke: 1:39-49.


"We gather this afternoon as a missionary family from the four corners of Ireland and further afield to spend some time in this sacred place. As pilgrims we are following in the footsteps of our parents and grandparents. And in the words of the prophet Zephaniah, we come here because 'The Lord our God is in our midst'.
As we gather around this altar we remember all who have joined in our National Novena over these past nine days. We remember all our sponsors and friends who have died since our pilgrimage last year. We also pray for all our young people who are doing exams at this time of the year.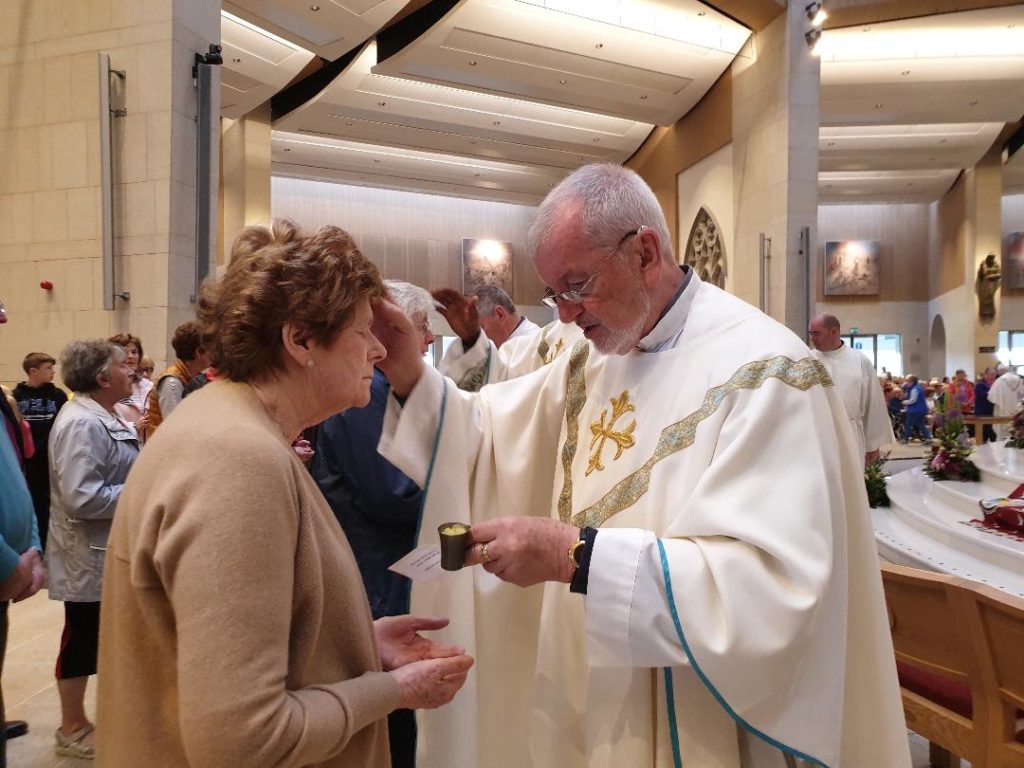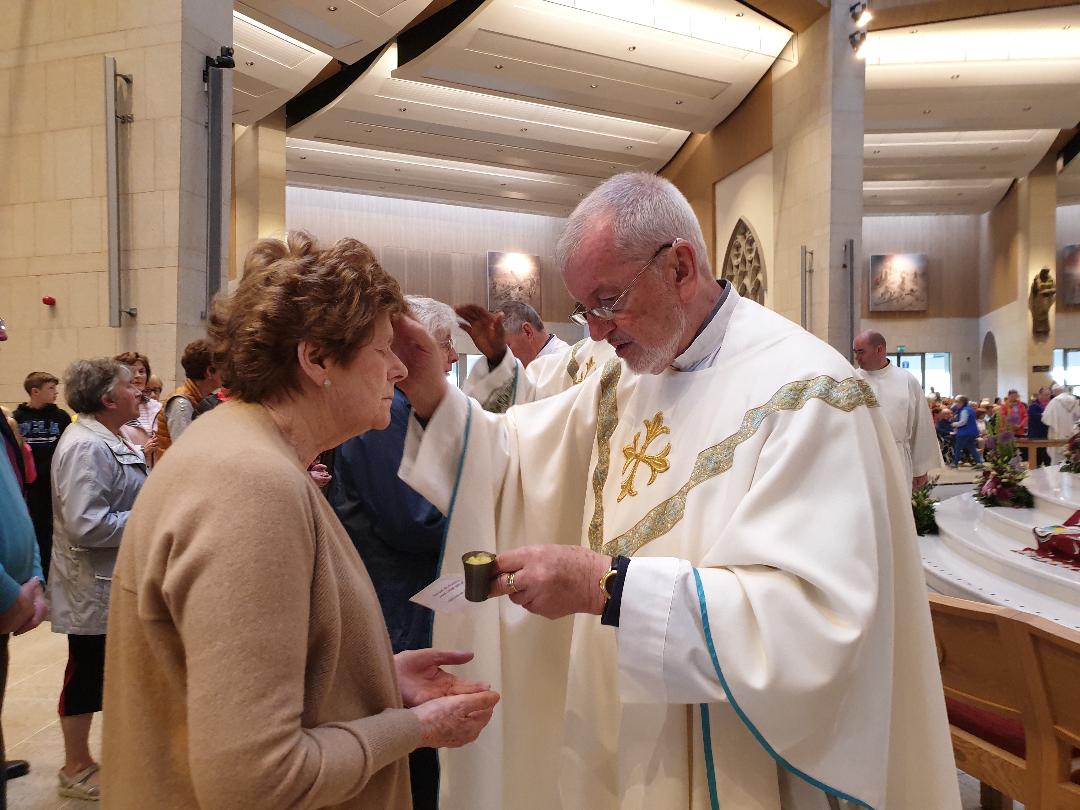 Many of us here today are carrying heavy burdens: family problems, sickness, worries, anxiety. We have come here to pray for a neighbour or friend who needs our prayers at this time. Let us hand all our troubles and worries over to Mary and she will bring them to Jesus.
In the Gospel today, we are told, that as soon as Mary heard that her cousin Elizabeth was pregnant, she went immediately to help her. Mary always reaching out to those in need. I'm sure Elizabeth was delighted to have someone to share her joy with. Two women, one so young and the other not so young talking about the wonderful things God had done for them. We know that Mary said Yes when the angel asked her to be the Mother of God, but when she saw her cousin Elizabeth who was well advanced in years expecting a child, surely this was confirmation that God was indeed doing great things in her life
It is not a surprise then that Mary is so full of joy, so happy that she proclaims the wonderful prayer / hymn that we called the Magnificat.
The Magnificat is a prayer of thanksgiving, of joy, of gratitude, of praise to God. It is also a prayer of liberation and it challenges us to reach out to the poor.
The Magnificat calls us walk with those who are suffering, to feed those who are hungry, and to lift up those who are marginalized by society. As Pope Francis says the Magnificat is 'a revolutionary prayer'. This prayer encourages us to proclaim God's mercy, compassion and love.
Bishop de Brésillac, SMA Founder
When Bishop de Brésillac founded the Society of African Missions (SMA) in 1856 one of the first thing he did was to bring his small band of missionaries to Our Lady's Shrine at Fourvière, near Lyons, France, and consecrating his small group of priests and brothers to the work of the African missions they placed themselves under the protection of Mary.
Fr Luigi Maccalli SMA
Just a few weeks ago another group of SMA missionaries went to the same shrine to pray for Fr Luigi Maccalli, an Italian SMA priest, who was kidnapped by Islamic terrorists in Niger last September. Today at our Lady's Shrine in Knock we ask you to pray that Fr Luigi will soon be released and returned to his family and eventually to his parish in Niger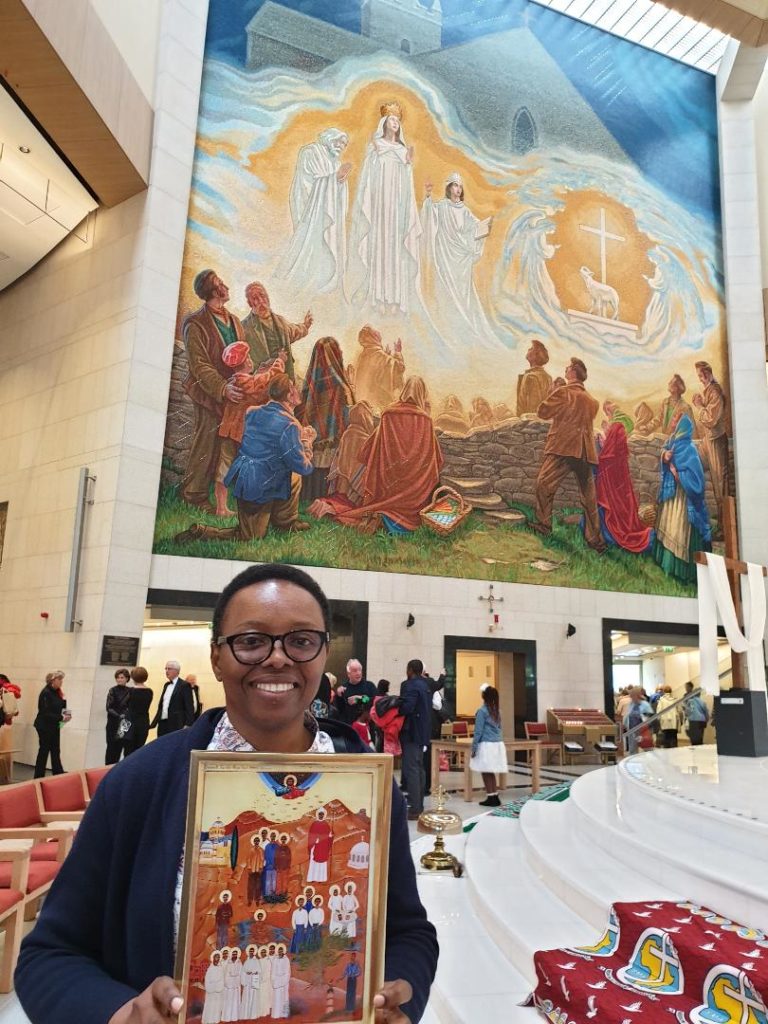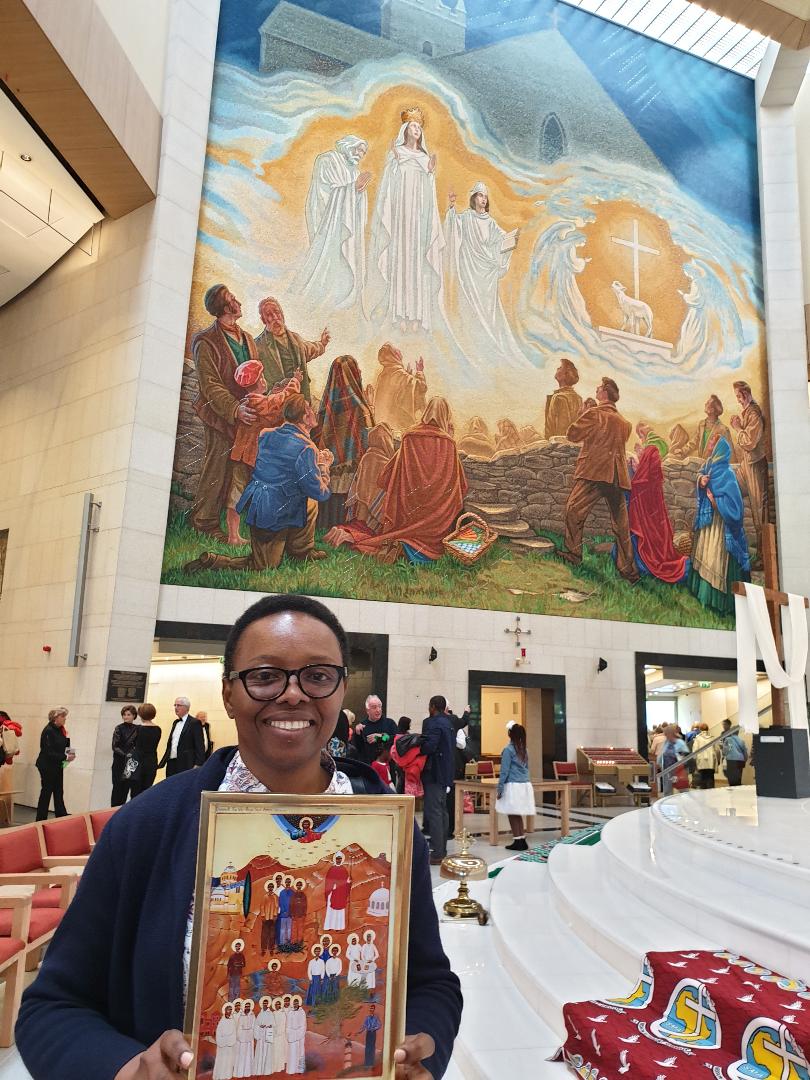 Missionary work
Missionary work in many parts of the world is difficult. In recent years several missionaries have lost their lives like the recently beatified martyrs of Algeria, among them two Sisters of Our Lady of Apostles. A few days ago two priests were killed in Burkina Faso and a missionary Sister was murdered in the Central African Republic, where our SMA priests are working. But despite the difficulties missionary work is also very rewarding. I'm sure I can speak for all the missionaries here today when I say that the one thing that makes it all worthwhile is living among African people. They radiate joy and happiness. Their singing, dancing and laughter brings nothing but joy into your life. They know, despite living with poverty and hunger, how to celebrate life. We missionaries have been blessed to have had the opportunity to work in Africa.
The church in Africa is alive and it is a missionary church – sending young men and woman to many parts of the world including Ireland. This year we in the SMA will ordain 20 young men to the priesthood, from Africa, India and Philippines. We have over 250 young men studying for the priesthood and each one of you play a vital part in them becoming priests.
Support from the people of Ireland
Our work in Africa would never have been so successful without the support of the people of Ireland. Despite everything that has happened in the church over the past number of years, you have never stopped supporting the work of the missions. Thank you for that support.
Laity / FVC
Today we hear so much about the role of the laity in the church. We in the SMA are blessed with so many lay people supporting our missionary work.
One of the great lay movements that was founded 60 years ago this year is what then was called the Family Vocations Crusade and is known today as the Family Vocations Community, the FVC.
Tommy McKenna
It all started with a young man in his early twenties in Belfast, Tommy McKenna. Tommy is still living in Belfast. He visited our seminary in Newry in 1959 and said that he wanted to do something for the Missions. At that time we had 80 students. Tommy contacted his family and friends and asked them to help him to raise funds for the training of students to the priesthood and to pray for vocations. And he wanted them to commit to doing this for eight years. They agreed and on a particular Sunday afternoon in 1959 Tommy collected one hundred pounds. Tommy then asked his friends to get their friends to start a group and over a period of a few months several groups sprung up all over Belfast. Soon other people got groups together and the movement spread to Portadown, Maghera, Dungiven, Ardglass, Omagh and Newry. Within a few years hundreds of people were members.
In 1968 my sister was invited to join a group and she brought me along with her. That was the first time I heard of the SMA. As they say the rest in history! Little did I know that I would be the FVC Director in Dublin, Dromantine and the West of Ireland in future years.
The FVC was launched in Cork in 1966 and later in Dublin. In 1976 the late Fr Michael Brady, who died last February, started the FVC in the West and once again it took root all over the west. By the late eighties there were FVC groups in every county in Ireland with over 30,000 families involved in the education of students to the priesthood. Today the movement is still going strong.
Some years ago Fr Peter McCawille SMA, from Co Tyrone, started the FVC in Nigeria. The money that we raise goes towards training our 250 students throughout Africa, India, Philippines and Poland. So this afternoon we thank you for your generosity over the years and we ask you to continue to support our work by your prayers and financial help.
From this great lay movement came the SMA Boys' / Girls' Club, Holiday camps, Family Fun Day in Claregalway & Open Day in Dromantine, Friends of Africa & SMALA.
As we celebrate 60 years of the FVC I want to take this opportunity to thank our wonderful office staff in all our houses. They are the first contact with our sponsors and benefactors. Thanks also to our FVC Directors who visit our Head Sponsors all over the country.
Finally, when Tommy McKenna invited his family and friends to his home that Sunday afternoon 60 years ago, no one could have envisaged how successful the FVC would become. I know Tommy is very proud that the Diamond Jubilee of the FVC is being celebrated here at Our Lady's Shrine. Thank you Tommy for helping to bring about this great movement of missionary support.
My prayer today is that, through the intercession of Our Lady of Knock, the Lord of the Harvest continues to protect each of you gathered here, all our supporters throughout the country and beyond and, especially, all our missionaries throughout the world. May God bless us all and bring us safely home.