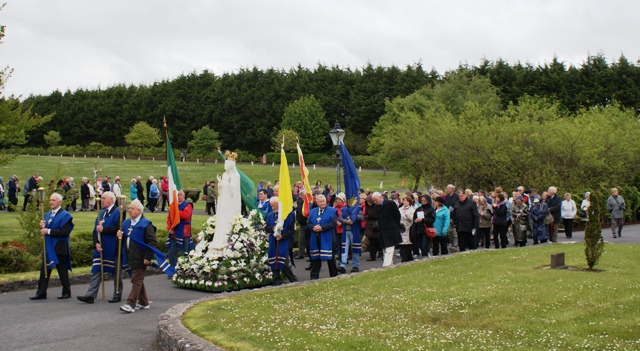 Fr Dan Cashman SMA preached at the 2nd evening of the SMA Novena in honour of Our Lady at St Joseph's SMA Church, Blackrock Road, Cork.
The Hospice movement has provided a wonderful new dimension to the care of the terminally ill. It has reminded us that more important than any treatment or therapy is the tenderness and love of those who do the caring. Sickness, like sorrow, tends to isolate the sufferer. We can feel lost and alone whenever we fall ill. There is a danger that we may withdraw into ourselves and feel cut off and separated from the goings on of life. That is what the warmth and touch of human compassion is so important. Those of us who are well can give a great deal to the sick. The grapes and flowers which we bring to patients are just a sign of what we really want to bring: the love of our hearts. We reach out to those in sorrow, to counteract that feeling of isolation that might easily overwhelm them. Most times there is nothing we can say. Our silent presence is what we offer.
When Jesus hung on the cross, and all his friends had fled, there standing by the cross was his mother, Mary, two other women and St John his disciple. They could do nothing for Jesus, there was nothing they could give him, no help of any sort. But they could love him, be faithful to him and stay with him through all those long and lonely hours. By their presence they supported Jesus and shared in his suffering – not only physical but his isolation and the spiritual feeling of abandonment.
May must have heard his cry, 'My God, my God, why have you forsaken me?' Mary too must have suffered that same feeling of abandonment yet she remained with her Son and her presence was a comforting presence.
It is intriguing that of all the apparitions of Mary over the past centuries – and there are fifteen, including that in Knock on 21st August 1879 – it is that apparition in Co Mayo where Mary speaks not a word. Mary stands there beside St John, St Joseph and the Lamb of God being sacrificed on the Altar.
It was a difficult time for the people. The previous three harvests had failed. Many were dying of malnutrition and starvation. Young people were emigrating in droves. A sense of hopefulness pervaded the country. In her apparition at Knock it was as if Mary wanted the people to know – without words – that she was present to them in their isolation and sadness. Not a word was spoken but Mary wanted all to know that they were not alone, that she was with them in their moment of affliction, just as our families do when a loved one is suffering.
The people of Knock and all over the country were comforted and consoled by the presence of Mary among them. Once again, Mary was standing with the afflicted and her silent presence enkindled the faith and hope of the people.
Speaking of Mary, Comforter of the Afflicted, Pope Benedict XVI said, "the closer a person is to God, the closer they are to people. We see this in Mary. The fact that she is totally with God is the reason that she is close to women and men. For this reason she is the Mother of every consolation and help.
She is a mother anyone can address in any kind of need, in every weakness and sin, in every sorrow, loss and pain for Mary has the understanding of everything and is for everyone the open power of goodness and kindness."
Fr Dan Cashman SMA, 21 May 2016