On Saturday, 15 July 2016, the Irish Province celebrated with four of its priests on the occasion of their Golden Jubilee of Ordination in the Society of African Missions.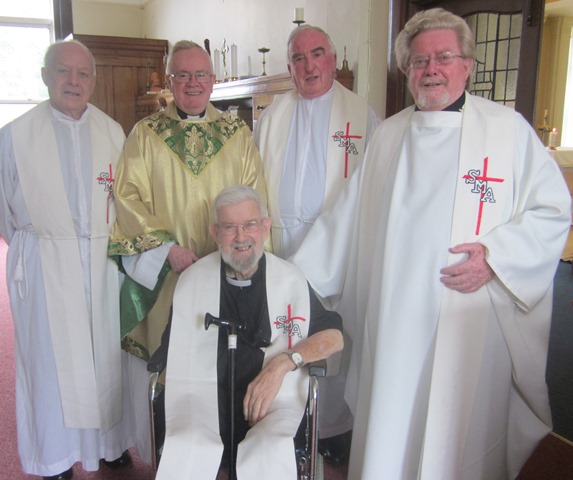 Fathers Michael Waters, Lee Cahill, Ali Kelly and Fionnbarra O'Cuilleanáin were ordained in December 1966. 
Fr Michael McCabe, the SMA Provincial Leader, led the Mass and the homily was given by Fr Dan Cashman SMA. His opening words set the tone for an inspiring homily:  "Cardinal Basil Hume when asked what makes a good homily gave the following advice 'first there must be a good beginning, secondly a suitable ending and thirdly the two should be as close together as possible'." Read Fr Cashman's homily here.
About 50 SMA priests and brothers gathered for the Thanksgiving Mass which was followed by lunch during which the SMA Provincial Leader, Fr Michael McCabe, spoke a little about each of the Jubilarians and the part they have played, and continue to play, in the missionary work of the SMA.
An interesting fact is that the three Corkmen [Fathers Fionnbarra, Lee and Michael] grew up in the same parish, Ballinlough. Their classmate, Fr Ali Kelly, hails from Rahoon, Galway City.
Individual mission life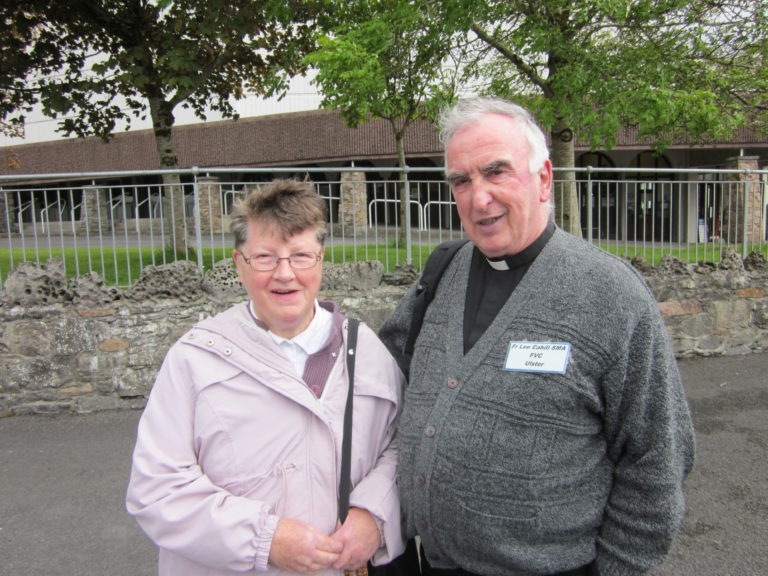 Fr Lee Cahill spent all his life in Africa in Liberia where he served in the Archdiocese of Monrovia. Along with other SMAs he remained with the Liberian people throughout the Civil War which engulfed that country in the late 80's and 90's. For many years Fr Lee led the international team of SMA's [from USA, Britain and Ireland] and he was instrumental in the opening up of the SMA to Liberian vocations [a new departure for the whole Society in the mid 1980's]. On his return to Ireland he served on the staff of the SMA Motherhouse in Cork and, since 2002, is the FVC Director in Dromantine.
Fr Ali Kelly served in Nigeria for 43 years. For 25 years he taught in different colleges in the diocese of Ondo [Stella Maris, Okitipupa; Aquinas College, Akure and St Peter's Training College, Akure]. Conscious that many Christian groups were disseminating all sorts of religious tracts [some giving false information on the Catholic Church], Fr Ali took to the pen and produced several books in an attempt to reach beyond the pulpit ot spread the word of God. Among his works were God's Great family and Hearts on Fire as well as a book on the SMA Founder, Bishop de Brésillac, A Man of Faith, Hope and Love. Moving to Ibadan Archdiocese in 1992 he established and developed the Institute of Pastoral Research, organising workshops, writing pamphlets [This is the Truth about…], conducting research into the attitudes of young people to topical matters etc.
Fr Fionnbarra O'Cuilleanáin missionary life was divided between Nigeria and Tanzania where his particular photographic and inculturation skills brought great benefit to the communities where he served. Fr Fionnbarra was noted for his 'bush work' [spending weeks travelling around his large parishes, some with more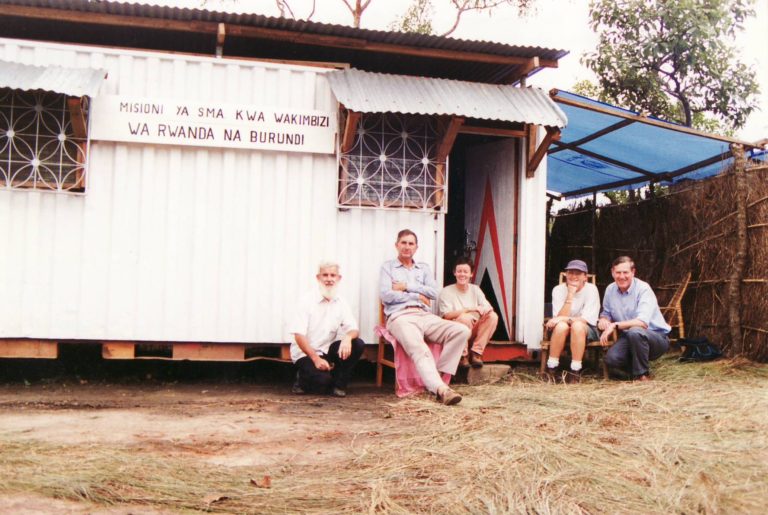 than a hundred villages] many of whom had never heard of Jesus Christ until this
intrepid missionary came among them. After twenty years in the Plateau area of Nigeria he travelled across the continent to join the fledgling SMA team in Tanzania. But quite quickly, as can happen in missionary life, he was diverted to work with the refugees who had fled from the 1995 genocide in Burundi and Rwanda. After some years in the SMA Refugee Mission he returned to his final parish, Kilulu, in Shinyanga diocese. Sadly, in 2000, serious ill health forced Fr Fionbarra's return to Cork and, despite the physical limitations on him, he still lives a very active life and participates as much as possible in the community life as well as enjoying the visits of his family and friends.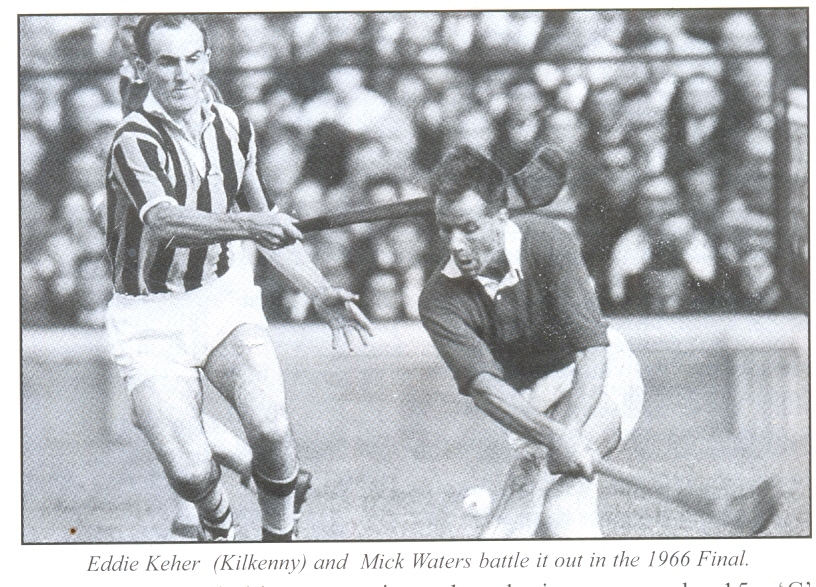 The name of Michael Waters is well known to the people of Cork for this SMA, shortly before Ordination, won an All-Ireland Senior Hurling medal under his belt when Cork beating Kilkenny in the 1966 All-Ireland. Like his classmate, Fr Ali Kelly, Fr Mick began his mission work as a teacher in the Kaduna area of Nigeria. After leaving teaching Fr Mick moved into fulltime parish work and was renowned too for your work in the remote rural areas in Kaduna, Kano and Kontagora as well as the SMA parish in Kagoro, Kafanchan diocese. Many parishes have benefitted from your various development projects: digging wells, pig farming, rudimentary dentistry etc.
These brief pen pictures of our four Jubilarians do not reflect the rich variety of their lives nor the work they have done and continue to do. As we pay due tribute to these four priests we must also acknowledge and thank their families for giving the Society their sons. May they continue to support Fathers Michael,Fionnbarra, Ali and Lee in the years ahead.
Ad Multos Annos!