Fr Tommy Wade SMA PP
Tel: 021-4616366

Read our Parish Bulletin

Fr John Horgan SMA CC
Tel: 021-4616363
Bereavement Support Group
The Bereavement Support group at St Joseph's SMA Parish Wilton is a voluntary ministry which aims to help the bereaved and grieving.
Twice a year – September and February – we offer an eight-week session to provide an opportunity to the bereaved and grieving to share their experience in complete confidence. Each person is given an opportunity to speak about their bereavement or they may choose not to do so. There is no obligation on anyone to speak. One is free to say as little or as much as she / he wishes.
We meet one evening a week for eight weeks at 8pm in the Wilton Parish Community Centre. For further information about the Support Group please contact:
The Parish Office, St Joseph's SMA Parish, Wilton – 021 4341362
Next session : February 2014 - details shortly
-----------------------------
Origin of St Joseph's SMA Parish, Blackrock Road, Cork
The first establishment for the SMA in Ireland (April 1877) was Lough View on the Old Youghal Road, Cork. In October 1877 the SMA moved to a larger premises at Elm Grove, Mayfield, where a Secondary School for those who wanted to be missionary priests opened.
In June 1879 a property was purchased on the Blackrock Road from Madame Maria McCarthy who lived in France. She was the widow and executrix of John McCarthy (probably one of the McCarthy's of the McCarthy Monument on the Blackrock Road, opposite the African Missions House). Fr Francois Devoucoux SMA began building a College and chapel, aided by a donation from a wealthy Yorkshire farmer, Mr Thomas Hinsworth.
The College cost £2,400 to build and was completed by April 1880. In 1881 the students were transferred from Elm Grove to the new College.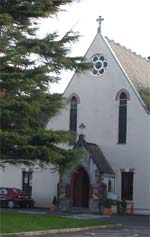 The Chapel - today known as St Joseph's Church - was completed in 1881 at a cost of £1,499-3s-2d. The contractors were John Sisk & Sons.
The Church, which is intimate in scale and Victorian-Gothic in style, is cruciform in plan with a seating capacity of approximately 500. The walls are constructed in coursed square necked limestone blocks with clay bricked dressings around the doors and windows. The steep pitched slate-covered roof with ornate terra cotta ridge tiles is supported on exposed decorative trusses resting on the external walls and embossed corbelled pad stones. Gothic style porches give access to the building.

The design and painting of the stained glass windows was carried out by Cormac Mehegan in 1950 and the fabrication and installation by Tom Henley took four months. The windows portray St Joseph, Our Lady and St Therese.

The Church is Ireland's National Shrine to St Therese of the Child Jesus, the Little Flower, Patroness of the Missions.

The Parish is created...
St. Joseph's SMA Church became a Parish Church on 6th September 1988, with Fr Owen McKenna SMA, a Corkman, as the first Parish Priest.
Fr James O'Kane SMA (Tyrone) succeeded him in 2001.
He handed over, in 2005, to a 'son of the parish', Fr Tommy Wade SMA. Until July 2013 he was assisted by Fr A J Butler SMA (Dublin). Fr Kevin Conway SMA (Tyrone) served in the parish 2012 - 2013. The present Curate is Fr John Horgan SMA who took up his appointment from 1 November 2013.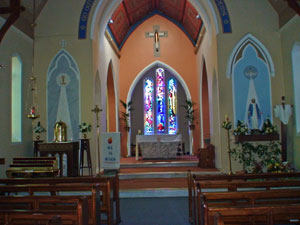 SUNDAY
Vigil Mass (Saturday): 7pm
Sunday Masses: 10am and 12noon

HOLY DAYS
Eve of Holydays: 7pm Vigil
Holyday: 7.15am, 10am, 12noon and 7pm
WEEKDAYS
Monday - Saturday: 7.15am, 10.00am
The Rosary is recited each morning before the 10am Mass.
During Lent and November: Mass at 6pm.
During Novena in honour of Our Lady (May): Novena Mass @ 7.30pm (except Saturday 7pm)
During Novena in honour of St Therese of Lisieux: Novena Mass @ 7.30pm (except Saturday 7pm)
The Sacrament of Reconciliation (Confession) is available every Saturday at 10.30am and 6.15pm.
Parish Office phone numbers: 021-4616327 or 4616328
Fax number: 021-4292890 Urgent Sick Calls: 086 8214709
E-Mail Address: This email address is being protected from spambots. You need JavaScript enabled to view it.
Baptisms - by appointment with the Priests of the parish. Three weeks notice required.
Weddings - by appointment with the Priests of the parish. A minimum of three months notice is required by Church and State. PreMarriage Course required.
Benediction & Devotions: Every Sunday evening at 5pm.
Exposition of the Blessed Sacrament: Monday - Friday 1.30pm - 3pm.