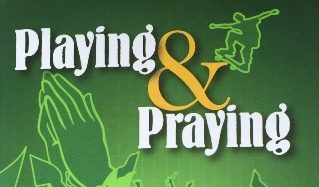 Euro 2016 kicked off on Friday evening with France beating Romania 2-1. A timely book – written by SMA Fr Kevin O'Gorman – has been published by St Paul's Press in Maynooth / Athlone.
Over the period of the Euros we intend to publish some of the prayers which Fr Kevin has composed. We begin with the Prayer of the Groundsman / Groundswoman. Without their unseen work the matches could not go ahead on pristine surfaces.
Interested in getting a copy of Playing & Praying ?
Contact St Pauls Publishing, Ireland, Moyglare Road, Maynooth, Co. Kildare, Ireland, Tel: +353 1 628 5933. Also available from St. Paul's Bookshop, Athlone, or through the following link: Playing and Praying . It is selling at €3.99 in Athlone.
Well worth as a companion read to the competition!